Main Content
Several semesters of work culminated in August with the opening of Faith: Five World Religions.  This exhibition, which had long been contemplated by the MOA staff, came to fruition as the result of collaborative work with Dr. Leann Pace and her classes in the WFU Department for the Study of Religions.  Faith is a long-term exhibit and will be on display for the next several years.  With this extended exhibition time, the staff looks forward to fostering dialogue among numerous Wake Forest students, K-12 students, and community members by asking them to explore how they and their neighbors answer the question: What do I believe?
Faith: Five World Religions was curated by Dr. Pace and her students in the Fall 2017 and Spring 2018 courses of REL 101: Introduction to Religion.  Students in these classes researched religious objects in MOA's collections, wrote reports and labels for the exhibit, and conducted interviews with WFU students about their religious practices and beliefs.  Museum Educator Tina Smith, who worked with the classes and served as the exhibit's lead curator, said, "We are so excited have material on exhibit that will prompt visitors to think about the fact that these faiths are all present in our community and are around us everyday."
The exhibit introduces the five most widely-practiced religious traditions in Winston-Salem: Christianity, Judaism, Islam, Buddhism, and Hinduism.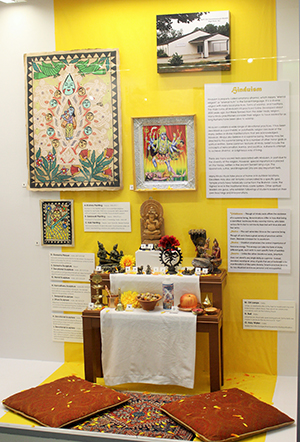 While various denominations of Christianity are the most widespread in the Piedmont Triad, local adherents to the other religions are connected to large global followings.  The exhibition discusses the history, variations, and beliefs of each featured faiths, illustrated with artifacts from a variety of cultures.
Faith uses objects from the museum's collections, photographs, and loans from the local community to explore each religion.  Artifact highlights include paintings of Hindu deities from Nepal, Buddhist monk's robes from Myanmar (Burma), votive offerings from a Brazilian church, and a Muslim embroidered silk prayer rug from Pakistan.  One of the showpieces of the exhibit is a Torah on loan from Winston-Salem's Temple Emanuel.  The Torah is made up from at least two different scrolls: a portion from late 18th century North Africa and a portion from mid-19th century Italy.  The exhibit also features a Coptic stone icon from Ethiopia, which was recently conserved thanks to supporters of the MOA Conservation Fund, allowing it to be displayed.
The exhibit provides additional insight into each of the five faiths with audio clips from local religious services, interviews with WFU students, and commentary on spirituality.   In the exhibit, this material is available by scanning QR codes with your smartphone.  However, patrons can also listen to the audio clips by visiting the exhibit site, allowing even people who are unable to travel to the Museum to explore the different religions.
The MOA staff plans to complement Faith through a variety of programs over the course of the exhibit, beginning with a visit from a group of Buddhist monks in October.
Recent Posts
August 7, 2020

August 4, 2020

July 24, 2020