Main Content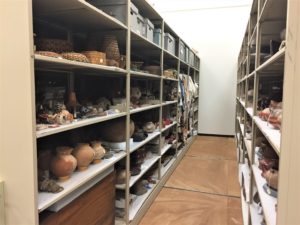 Since the Museum of Anthropology's inception in 1963, we have acquired nearly 30,000 artifacts from all around the world through the generosity of community donors.   When our objects are not on exhibition, they reside in an off-site storage facility.  We implement and maintain the best practices regarding conservation and collections management in both our exhibition area and our storage; however, our storage facility is nearly at capacity.
Thanks to the generosity of donors to the Conservation Fund and the Office of the Dean of the College, this fall we will be able to put a sustainable plan into effect to increase our storage capacity.  In September, work will begin to construct a mezzanine level within our off-site facility.  This newly constructed space will house our boxed textile collection, which consists primarily of clothing from around the world.  With the boxed textiles relocated, space will be freed up in our compact shelving to accommodate new acquisitions.  Existing collections will also be rehoused as necessary to prolong their lifespan.  As a part of this project, Collections Manager Stormy Harrell is also undertaking a plan to reorganize the collections by world region as much as possible in order to make it easier to locate related artifacts.
With this construction project, the Museum is very excited to considerably increase our storage capacity allowing us to continue to accept donations of high-quality ethnographic art, archaeological artifacts, and global material culture from our diverse and committed supporters.
Recent Posts
August 7, 2020

August 4, 2020

July 24, 2020