Main Content
Rajasthan, the largest state in the India, is located in the northwest part of the country. The state was formed from the medieval region known Rajpuntana, and many of the Rajput traditions are in practice today. The Rajput origin legend says that they are descendants of the Hindu Sun God, Surya. Surya is considered the source of life, so it is not a surprise that the most auspicious ceremony in Rajasthani tradition is the wedding, the celebration of a union which aims to produce life through procreation.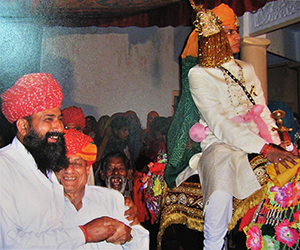 The major public ceremony is in fact not the wedding, but the baraat, or procession. Traditionally, the groom and all of his male relatives to conduct an elaborate parade from his home to that of his bride. Often the groom will ride through the streets on horseback carrying a sword (a tradition stemming from the upper-class warrior sect). He is accompanied by music and celebration as he makes his way to claim his bride. The community follows the parade and offer their blessing. Once the party reaches her home, the mother of the bride escorts the groom and one of his male relatives to the wedding mandap, or canopy, under which the wedding ceremony will take place. The Rajasthani Hindu wedding ceremony is held outside and takes many hours. It involves rituals symbolizing the union of both the couple and the families. While the bride's female relatives participate in the wedding ceremony, the bride's male relatives entertain the baraat party outside.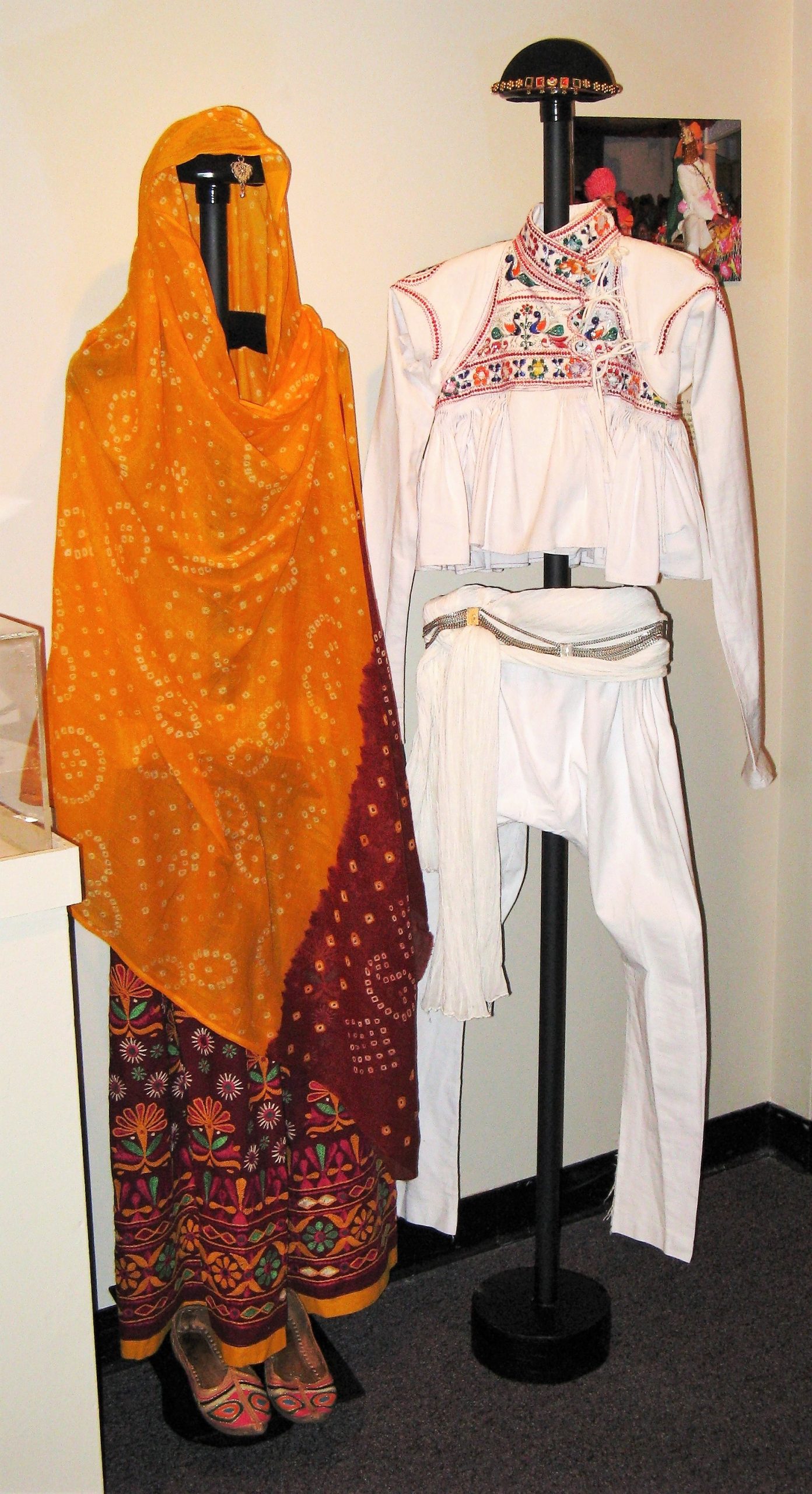 Colors
Rajasthan garments are rich in symbolic color. These colors can be seen in the wedding outfits. The groom's costume is white for authority, while the bride's is dominated by red and yellow. Yellow symbolizes the Sun God, Surya, life and growth. Red is the traditional color of a bride, similar to the use of white in Christian weddings. It evokes feelings of joy and luck.
Peacocks
The groom's jacket has peacocks on both shoulders. The bride's shoes are embroidered with peacock eyes. The peacock is the national bird of India as well as the symbol of Rajasthan. The bird symbolizes beauty, grace, and pride.
Lotus Embroidery and Mirror Work
The bride's skirt is embroidered with lotus flowers that symbolize long life, honor, and good fortune. In the Hindu religion, the lotus flower is also the flower of Krishna, the supreme deity. Small mirrors have been applied to the bride's skirt in hopes that they will protect her by reflecting evil away.